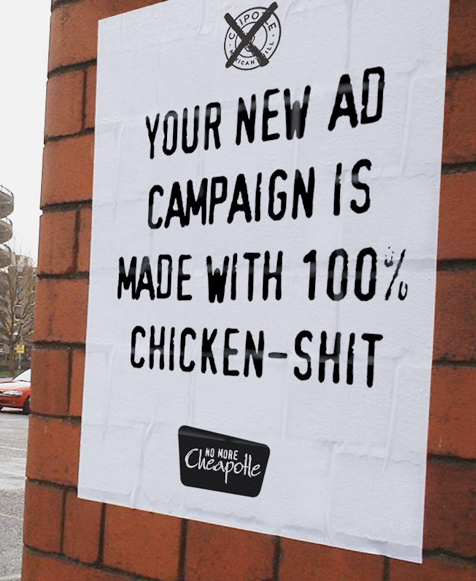 Apparently, Chipotle has undergone a rebranding strategy, introduced a new value menu and kid's menu, and developed new ad campaigns. The recently signed with San Francisco based agency,
Butler, Shine, Stern, & Partners
.
The Denver Egotist covered an article on the changes made. For those of you who don't know, Chipotle was started in this great city. Apparently, no one there was too happy about the changes. You can read the article
here
.
The picture above is from a website,
Cheapotle.com
, that was started to allow people from all over the U.S. to express their discontent with the new approach. Users can comment and create fake ads depicting their feelings to the changes made.
I love Chipotle, and I'm a little upset that they changed up their menu. I enjoyed the clean and simple approach, but this isn't why I'm writing. It's scary to see how fast a negative opinion can spread. People are voicing their opinions now more than ever. What's worse is that these opinions don't go unnoticed. People are constantly reading and listening to what others are saying. One false move can wreak havoc on your brand. Too bad for Chipotle I guess. Any thoughts or opinions?

I enjoy getting a barbacoa burrito with extra rice, black beans, cheese, sour cream, roasted corn salsa, and guacamole. Heh, delicious.