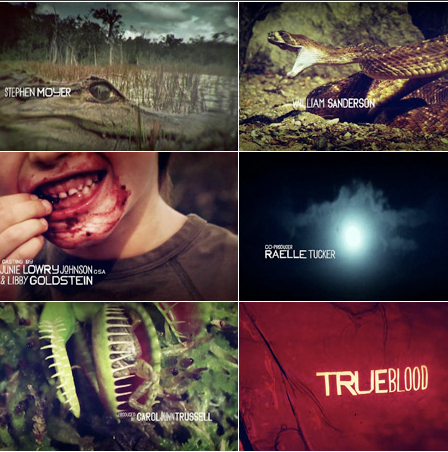 You know those credits that roll through the beginnings of movies and tv shows? That's what I mean by a Title Sequence. Some people enjoy them, some could really care less. I think the beginning is just as important as the movie. To me, it sets up the initial mood/how you feel.
The picture above is for HBO's show
True Blood
. This is one of my favorite sequences for TV. Artofthetitle.com says that the creators of this sequence were inspired by a documentary called 
Searching for the Wrong-Eyed Jesus. 
If you want to watch
True Blood's
title sequence or any other movie/TV sequence, visit their website below. You'll be able to watch the sequence in normal or HD quality with a little bit of background information provided for you to read.