Most people go about their lives without really noticing changes of brand logos and their identities. This is due mainly to the fact that there are much more important things going on in the world (ha ha). Still, for the few people whose jobs are to notice such things, re-branding can be very exciting. The Days Inn logo above is a huge improvement from its predecessor. You would think someone would have wanted to change that logo years ago (they had been using it for 37 years!). The old logo reminds me of something out of a horror movie.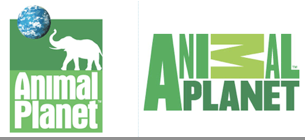 I'm a little indifferent about the change with Animal Planet. I really enjoyed the elephant and the picture of earth in the old logo. The new one is just plain ugly to me. It doesn't really express what the channel is about. Over the months its been in use, I have grown to at least accept it. 
I don't want to unload too much on one post, so I will revisit this topic with other products down the road.
Thanks to Underconsideration.com/brandnew
for the pictures